Dr. Peter A. McCullough, MD, MPH, FACC, FACP, FCCP, FAHA, FNKF, FNLA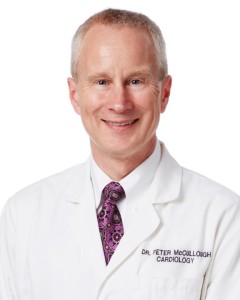 After receiving a bachelor's degree from Baylor University, Dr. McCullough completed his medical degree as an Alpha Omega Alpha graduate from the University of Texas Southwestern Medical School in Dallas. He went on to complete his internal medicine residency at the University of Washington in Seattle, cardiology fellowship including service as Chief Fellow at William Beaumont Hospital, and master's degree in public health at the University of Michigan.
Dr. McCullough directs cardiovascular education and research for the Baylor Health Care System and is a Vice Chief of Medicine at Baylor University Medical Center in Dallas, TX and is a Principal Faculty in internal medicine for the Texas A & M University Health Sciences Center. He is an internationally recognized authority on the role of chronic kidney disease as a cardiovascular risk state with over 1000 publications including the "Interface between Renal Disease and Cardiovascular Illness" in Braunwald's Heart Disease Textbook.
In 2013, he was honored with the International Vicenza Award for Critical Care Nephrology for his outstanding contribution and dedication to the emerging problem of cardiorenal syndromes. Dr. McCullough is the current Chair of the National Kidney Foundation's Kidney Early Evaluation Program (KEEP), the nation's largest community screening effort for chronic diseases. His works have appeared in the New England Journal of Medicine, Journal of the American Medical Association, and other top-tier journals worldwide. He is the co-editor of Reviews in Cardiovascular Medicine and serves on the editorial boards of multiple specialty journals.
Major Contributions
Senior leadership and oversight of clinical, education, and research operations at major academic medical centers
Clinical development of in vitro diagnostic assays for heart and kidney disease now used worldwide
Editor and Chairman, KEEP Annual Data Report published in the American Journal of Kidney Disease
Observational studies and randomized trials of therapies for acute kidney injury, hypertension, acute coronary syndromes, heart failure, and cardiorenal syndromes
Board certification in internal medicine, cardiology, clinical lipidology, and echocardiography with a practice dedicated to the prevention and treatment of common diseases including obesity, diabetes, kidney and heart disease